Distributors and Specialists in HVAC
Engineered and Applied Products
Providing healthy and comfortable environments for schools, colleges, day cares, and learning centers.
Shelter cooling for sensitive electrical equipment, control rooms, treatment plants, and lift stations.
Complete versatility and flexibility for offices, churches, meeting rooms, halls, and storage areas.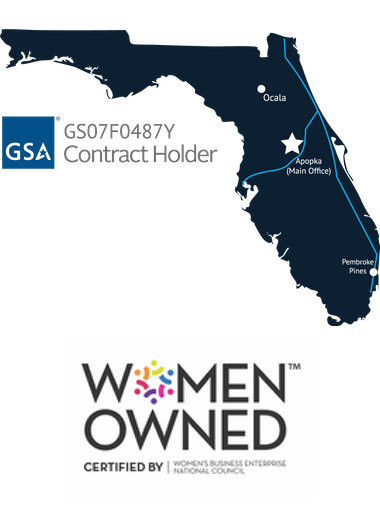 Government Contract Holder
Certified Women Owned
Industry Specialists, Exclusive Bard Engineered Products Representatives for the State of Florida
At AccuAir, we specialize in engineered and applied HVAC products. Our professional team will eagerly assist you with design, load calculations, equipment selection, and options and accessories that add value and comfort to the owners and users of the facility. We cover the state of Florida North, Central and South with three offices, OCALA, APOPKA and MIRAMAR, from Tallahassee to Key West. We offer engineering assistance, pre-bid site visits, start-up of our equipment, owners and facility personnel training on the use and maintenance of our equipment, hands-on service training for technicians and service personnel, lunch & learn sales presentations, and site visit with our mobile showroom for education and demonstration of our indoor I-TEC classroom unit. We are a one-stop engineering sales representative and distributor firm offering single source responsibility, unique in our industry.
Servicing Our Telecom Customers in the southeast states of: Florida, Georgia, South Carolina, North Carolina, Tennessee, Louisiana, Mississippi, and Alabama
AccuAir provides various wall-mount, telecom HVAC units with the latest technology upgrades; several types of energy saving economizer options, controllers, corrosion protective options, cabinet color choices, stainless steel and aluminum cabinets, and more. AccuAir's technical sales team is your experienced partner for all your telecom shelter and electrical equipment room HVAC needs.
GS07F0487Y
Contract Holder